Pavol Breslik
Recently, the tenor Pavol Breslik performed for the first time as the Prince in Dvořák's Rusalka, not only on the stage of the Opera on the Slovak National Theater, but it was also his world debut. He captivated the audience not only with his singing, but also with his acting skills.
We like to witness Breslik's growth, which is why we try to map his development at our concerts. We organized several concerts with him, and it was always something different. Since 2012, when it was a lighter recital with popular songs and opera program, which music critics included among the events of the season, we bounced back to Schubert's (The Beautiful Mill – 2014) and Strauss's songs (Strauss's songs – 2018). In November, there will be another opportunity to enjoy his singing skills.
Getting Pavel to a concert is not easy, because he is touring all over the world, even though the pandemic has slowed him down. The Slovak audience benefited from it, which was able to experience him more than once in the opera La traviata (Verdi) and in the premiere as the Prince in Rusalka.
Pavol Breslik is a native of Kysucké Nové Mesto. He studied at the Academy of Arts in Banská Bystrica with Doc. Vlasty Hudecova. In 2000, he won the Antonín Dvořák singing competition in Karlovy Vary. He expanded his education at the Opéra Studio CNIPAL in Marseille and at master classes with Yvonne Minton, Mada Mesplé, Mirella Freni and William Matteuzzi.
From 2003 to 2006, Pavol Breslik worked on the stage of the State Opera in Berlin, where he gradually appeared in the characters of Ferrando (Mozart, Così fan tutte), Tamino (Mozart, The Magic Flute), Don Ottavio (Mozart, Don Giovanni), Nemorino (Donizetti, L'elisir d'amore), Kudryas (Janáček, Káťa Kabanová) and Jurodivy (Musorgsky, Boris Godunov).
He performed Mozartian roles at the Teatro Verdi in Trieste, at the Piccolo Teatro in Milan, at the Théâtre de la Monnaie in Brussels, at the Glyndebourne, Vienna and Aix-en-Provence festivals. He performed as Jaquino in Fidelio (Beethoven) at the Théâtre du Châtelet in Paris. In 2005, the prestigious German music magazine Opernwelt declared him the winner in the category Opera Discovery of the Year.
Since 2006, Pavol Breslik has performed as an artist without permanent engagement at the Metropolitan Opera in New York and at the Salzburg Festival as Don Ottavio, at the Geneva Grand Théâtre as Alfred (Strauss, Netopier), at the Royal Opera House in London as Tamino, and at the State Opera in Munich as Idamante (Mozart, Idomeneo) and Lensky (Tchaikovsky, Eugene Onegin). At the Théâtre du Châtelet, he sang the Evangelist in John's Passion (Bach). He debuted in Munich as Gennaro in Donizetti's Lucrezia Borgia. His stage partner was Slovak diva Edita Gruberová. Alongside her, he sang Alfredo in Traviata in Munich and Vienna in late 2010 and Macduff (Verdi, Macbeth) at the Berlin Deutsche Oper.
In Los Angeles, under the baton of Gustavo Dudamel, he performed as Don Ottavio in an unconventional production of Don Giovanni. He recently performed Lensky in London, Gennaro again in Munich and Tamino at the Berlin State Opera. Last year, he sang Tamino at the Easter Festival in Baden-Baden and was celebrated in Paris at the Opéra Bastille in the same production.
In the 2012/2013 season, he became a member of the ensemble of the opera in Zürich, where he has already portrayed Števa (Janáček, Jenufa), Don Ottavio, Faust (Gounod), Nadir (Bizet, Pearl Fishers) and Donizetti's Roberto Devereux. In this season he sang Alfredo and Nemorino in Zurich, Edgardo (Donizetti, Lucia di Lammermoor) in Munich and Tamino in Berlin and London.
Pavol Breslik regularly performs under the baton of personalities such as Riccardo Muti, Simon Rattle or Kurt Masur. Among the most significant concert experiences of Pavel Breslik is collaboration with Kurt Masur on Janáček's Glagolitic Mass as part of the BBC Proms festival or with Emmanuelle Haïm on Handel's Il trionfo del tempo (CD Virgin Classics). With the Berlin Philharmonic conducted by Simon Rattle, he sang Narraboth (R. Strauss, Salome) in Berlin and Salzburg. In August, he performed with great success at the Schubertiade in Austria.
In addition to the concerts within the Great Slovak Voices series, Slovak opera fans could see Pavel Breslik in the Slovak National Theater  in the roles of Tamino and Nemorino, Don Ottavio and finally in La Traviata and Rusalka.
RÓBERT PECHANEC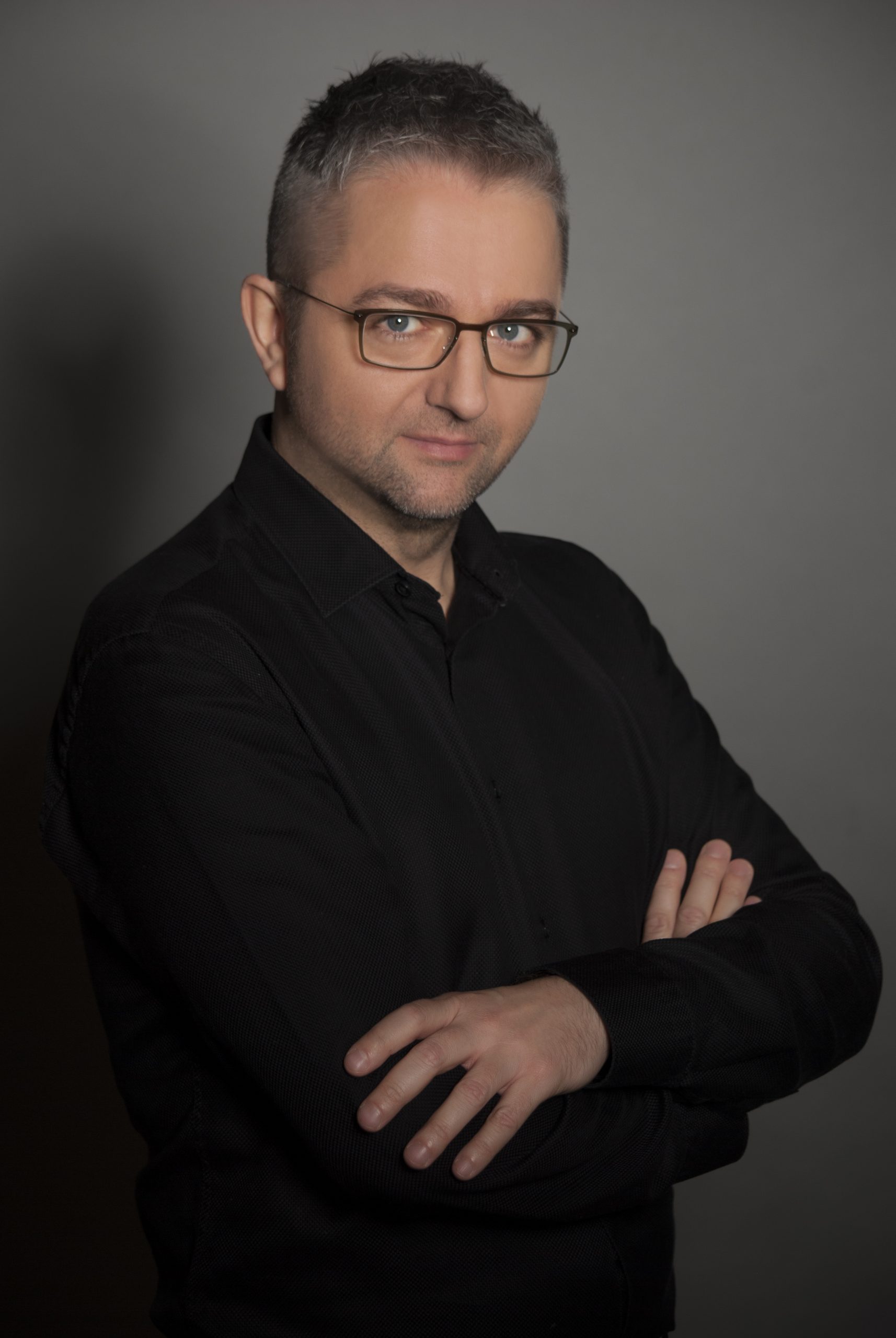 He studied at the State Conservatory in Žilina and at the Music Academy in Bratislava in the class of prof. Daniel Buranovský, ArtD. He completed his doctoral studies in the classes of prof. Ľudovít Marcinger and Prof. Marián Lapšanský. He worked with singers already during his studies and completed master classes for singing with piano accompaniment. He won many awards for his performances. In 2004, 2005 and 2017, he received the prize for the best piano collaboration at the Antonín Dvořák International Singing Competition in Karlovy Vary, and in 2008 the prize for the best accompanist at the Mikuláš Schneider-Trnavský International Singing Competition in Trnava.
He gave concerts in Belgium, the Czech Republic, Denmark, France, Hungary, Germany, Poland, Austria, Switzerland, Italy and the USA. Between 2000 and 2004, he worked at the Wexford Opera Festival as an accompanist and head of staging in several productions. H regularly accompanies our singers – Adriana Kučerová, Pavol Breslik, Terézia Kružliaková, Martina Masaryková, Štefan Kocán. He has been cooperating with the Kapos concerts agency for many years, where he accompanied singers as part of the Great Slovak Voices cycle.
GENERAL PARTNER OF THE CONCERT
GREAT SLOVAK VOICES
PAVOL BRŠLÍK
piano: Róbert Pechanec
November 23, 2022 at 7.30 p.m.
Concert hall of the Slovak Philharmonic
PROGRAM
Wolfgang Amadeus Mozart, Idomeneo: Fuor del mar
aria of Idomeneo, Act 2
Antonín Dvořák: Love Songs (Gustav Pfleger-Moravský) op. 83          
song cycle
Ó naší lásce nekvete/Oh, for us love does not bloom.Andante (D major)
V tak mnohém srdci mrtvo jest/So many hearts are as though dead. Moderato (F

♯

 minor)
Kol domu se ted' potácím/Around the house I stagger now. Allegretto (E minor)
Já vím, že v sladké naději/I know that in my sweet hope.Poco sostenuto (D

♭

 major)
Nad krajem vévodi lehký spánek/Over the countryside reigns a light sleep. Allegretto grazioso (A

♭

 major)
Zde v lese u potoka/In forest here by a brook. Andante (E major)
V té sladké moci ocí tvých/In that sweet power of your eyes. Andante (G minor)
Ó duše drahá jedinká/Oh dear soul, the only one. Poco lento (A major)
Antonín Dvořák, Rusalka: Vidino divná, přesladká…. Beautiful vision, delightful…
Prince, Act 1
I N T E R V A L
Joaquín Turina: Poema en forma de canciones
(Ramón de Campoamor) song cycle
Dedicatoria (klavír sólo)
Nunca olvida
Cantares
Los dos miedos
Las locas por amor
Gaetano Donizetti, Lucia di Lammermoor: Tombe degl´avi miei… Fra poco a me ricovero
Edgardo, Act 3
Jules Massenet, Manon: Ah! fuyez, douce image
Chevalier des Grieux, Act 3
Francesco Paolo Tosti: Songs
Emmerich Kálmán, Circus Princess: Zwei Märchenaugen
Fedja Palinski, Act 2
Franz Lehár, Giudita: Freunde das Leben ist Lebenswert
Captain Octavio  Act 1
Pavol Breslik © Anton Karpita