In the small village Tvarožná near the town Kežmarok in Eastern Slovakia, she is remembered as: the little girl that was alway singing. Today, mezzo-soprano Jana Kurucová is the soloist of the prestigious opera house – the Deutsche Oper Berlin. In the summer, she will record her first CD of Mozart Arias.
You have been living in Berlin for several years now, can you say it's already home?
Certainly. Every time I go back to Berlin, I feel like I'm coming home. I met my husband here and our daughter was born here. Here I founded my own family. So Berlin will forever mean the beginning of our family. I like the city as well. There is absolute freedom here. No one judges you – it doesn't matter where you come from, or what your style is etc. There is a place for everyone and there are really many possibilities.
So you could declare, as President Kennedy once did: "Ich bin ein Berliner"?
Yes, gladly and willingly I am a Slovak Berliner.
What was your journey to Berlin?
My singing journey started by leaving Slovakia for Graz, Austria, where I studied for two years at the University of Music and Performing Arts (Kunstuniversität) Graz. Then I got a contract with the opera studio (scene for young singers) of the Bavarian Opera in Munich. It was the last year of the conductor Zubin Mehta, who was the general music director there. I sang some small roles in several productions, and worked with great top class singers. Then I got a contract in Heidelberg, where I stayed for three years, and I had the opportunity to sing all the major Mozart roles in my voice fach and the role of Rosina from The Barber of Seville. Rosina opened the door for me to Berlin, to the Deutsche Oper.
Most soloists choose to be freelance after some time, so they are not bound to one scene.
I start to work as a freelance in summer. And since I already had some opportunities to work abroad, like Beijing, Tokyo or Oslo, I've got contacts and I'll sing there again in the future. But I will also stay at the Deutsche Oper, which offered me a two-year contract with fifteen performances per year. As far as Italy is concerned, it is more difficult. In my voice fach, the Italians have excellent domestic singers. It is most likely that I will be engaged in the non-Italian repertoire. Unfortunately, many Italian theaters have financial problems, but I hope they will improve in the future.
Are you suggesting Italians do not pay?
There are a couple of theaters that pay, where there is no problem, but I know from my colleagues that there are also theaters where you have to wait a year to get paid. If I go there, I have to find accommodation, pay for my travel, and also have to eat there, so it's cruel to be made to wait for a year to get your money.
How will you manage all the different parts of your life? You have a family, and your husband has a job in Berlin.
My husband is very happy to travel and there is no problem to travel with our daughter. She keeps asking when we will fly again. I take things as they come, and I look forward to having the chance to play some beautiful roles. I'm not afraid of it. Whenever I am at a crossroads I trust in fate. When a person truly wants something honestly, then it will certainly come. It works for me and I am really happy.
Many singers are afraid of their health. When you travel with your family and have to take care of your daughter, are you afraid that you will not have a voice next morning?
I don't really think about it. The great supporter of illness is negative thinking. You have to think positively. Even in Berlin I take care of my family – I go to nursery school with my daughter, and my voice works perfectly well. It's all about context, but I confess that when I have a demanding performance ahead, I sleep alone the night before the concert so that I can have a really good rest.
Thanks to your husband you have good conditions at home.
Yes, one has to relax before performing. When I am with my daughter during the day and have a performance in the evening, I go to the theater an hour earlier than usual and I just sit on a chair and do a few yoga exercises. It's also a way of focussing on myself as a singer, but I do not need more.
Does your daughter go to the opera? Has she seen you sing?
She goes to the theater very often, although now when she recognize me in a wig, it's a bit more difficult because she wants to join me on stage, so my husband comes with her to the dress rehearsal and they walk on stage together if she really wants to join me. In Berlin, however, the theater also has a great offer of children's shows and concerts. She has already experienced it and can tell which instruments are playing.
You're always so relaxed and one can feel your joy on stage, but do you still have the jitters?
I have to say that it is not the jitters I used to have fifteen years ago when I started. At that time I really had such a tremor that my heart was beating very fast, and I had cold hands and I was in a cramp. Since then, I've had several hypnosis sessions, which I really recommend, because they helped me get rid of different fears that one has. The biggest fear is: will I be appreciated by others or what will they think of me? You can never please everyone, and you must free yourself from that fear and say: "I have the voice I have, I cannot be someone else, and I do not want to be someone else." People might like you and come again to the theater or they might not. I might be cast again or I might not but either way, life goes on. I think that when you accept your mortality, and that we can go at any time, what is there to fear?
Concerning fans, how is it in Berlin? Do you have fans there?
I have a lot of fans there and they come to my performances. This is especially true of the in-laws. After the performance they were talking about it during the applause, and said that Janka (diminutive form of Jana in Slovak) sang it superbly. The people behind them asked how they know Janka, and they replied that she is their Janka … I have such fans who like me and I feel it every time I go on stage and I sing a role. I am very grateful for their applause.
The life of an opera singer is scheduled for several years to come. What is is your schedule?
I know two years ahead what's waiting for me. I'm very grateful for this, because I'm the type of singer who, when I know that I'm going to sing a difficult character in two years, I start to look at it in advance. This is how I avoid time stress. Each character needs a process of maturation. There are roles I need a quarter of a year to train for, because the body needs to get used to it. When singing, we still use the same muscles, but always in some other combination. And I like, when studying a role, to put it aside for a few months, so it can mature in me. Then when I start rehearsing the production, I have a feeling that now it's starting to get juicy. So this is the advantage of knowing two-three years ahead what I will be singing, so I can prepare for it.
What big roles are waiting for you in those two-three years? What are you currently preparing for?
For example, waiting for me is … but I cannot tell you yet (laughs). The theater's plans are not yet out. It is a theatrical secret, but I have a role in Verdi's opera that will be my test step towards Verdi and will expand my repertoire.
How do you prepare for a role?
The very first thing is what it is about, what the character wants to say. Then I sit at a piano, and since I was playing piano from childhood, I can learn the role myself. First I start learning the phrases. Sometimes the text is very difficult, so I literally divide the word into syllables, and I sing over and over again every syllable so that no muscle cramps are created, and everything feels relaxed. When I really deal with each phrase for so long and I know exactly what I am singing the meaning of every word, I suddenly find that everything is in the score. The acting comes to me automatically, it's only the second stage of character creation. I think that when a person starts engaging in the acting at the beginning, it is very emotional and often does not know where technical mistakes are made and tries to hide technical errors by acting. If mistakes get into the body, then they are hard to eradicate.
When you learn the role and you sing the premiere and a few repetitions, can you say it's already in you? You do not forget it?
It is so, thanks to long preparation. When I study a role, I divide it into what I call seatings, for example twenty seatings, and at one seating I study just three pages. For two hours I only deal with these parts. First, only syllables, their joining in words and finally dynamism will come. Then acting is added.
Every time you come to the stage it's there?
Yes. Because the artist is constantly repeating it, does it, and on the stage only gets the familiar feeling of what was learned before. It is programmed in you.
Interview has been condensed and edited.
Interview by KATARINA KORECKÁ
Published in the magazine for women Slovenka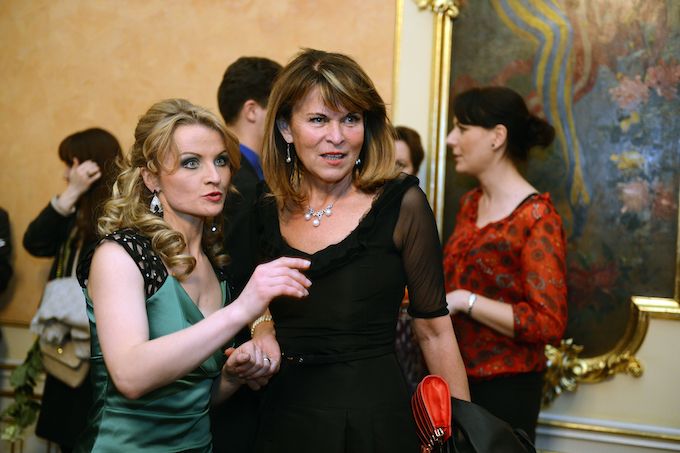 After her first concert in Bratislava as a part of the cycle Great Slovak Voices with Mária Reháková, the publisher of the magazine Slovenka                                                                                       © PANER