Pavol Bršlík
Pavol Bršlík je rodákom z Kysuckého Nového Mesta. Študoval na Akadémii umení v Banskej Bystrici. V roku 2000 sa stal víťazom speváckej súťaže Antonína Dvořáka v Karlových Varoch. Vzdelanie si rozšíril v Opera Studio CNIPAL v Marseilles a na majstrovských kurzoch u Yvonne Minton, Mady Mesplé, Mirelly Freni a Williama Matteuzziho.
V rokoch 2003 až 2006 pôsobil Pavol Bršlík na scéne Štátnej opery v Berlíne, kde sa postupne predstavil v postavách Ferranda (Mozart, Così fan tutte), Tamina (Mozart, Čarovná flauta), Dona Ottavia (Mozart, Don Giovanni), Nemorina (Donizetti, Nápoj lásky), Kudrjáša (Janáček, Káťa Kabanová) a Jurodivého (Musorgskij, Boris Godunov). V roku 2005 ho prestížny nemecký hudobný magazín Opernwelt vyhlásil za víťaza v kategórii Operný objav roka.
Od roku 2006 už ako umelec bez stáleho angažmánu debutoval v Metropolitnej opere v New Yorku i na Salzburger Festspiele ako Don Ottavio, v ženevskom Grand Théâtre ako Alfred (Strauss, Netopier), v Royal Opera House v Londýne ako Tamino a v Štátnej opere v Mníchove ako Idamante (Mozart, Idomeneo) a Lenskij (Čajkovskij, Eugen Onegin). V Mníchove absolvoval aj rolový debut ako Gennaro v úspešnej inscenácii Donizettiho Lucrezie Borgia, jeho javiskovou partnerkou bola slovenská diva Edita Gruberová. Popri mozartovských a belcantových partoch figuruje v repertoári Pavla Bršlíka tiež Verdiho Alfredo (La Traviata) a Cassio (Otello), Janáčkov Kudrjáš (Káťa Kabanová) a Števa (Jej pastorkyňa) či Bizetov Nadir (Lovci perál).
Pravidelne hosťuje v operných domoch v Barcelone, vo Viedni, v Paríži i v Zürichu pod taktovkou osobností, ako sú Riccardo Muti, Simon Rattle či Kurt Masur. Slovenskí fanúšikovia mohli Pavla Bršlíka vidieť aj na doskách SND v postavách Tamina a Nemorina. Nedávno sa vrátil z Los Angeles, kde sa pod taktovkou Gustava Dudamela predstavil ako Don Ottavio v netradičnej inscenácii Dona Giovanniho. Medzi najvýznamnejšie koncertné skúsenosti Pavla Bršlíka patrí spolupráca s Kurtom Masurom na Janáčkovej Glagolskej omši v rámci festivalu BBC Proms či s Emmanuellom Haïmom na Händelovom Il trionfo del tempo (CD Virgin Classics).
Amir Katz
Amir Katz sa narodil v Izraeli, kde ako dieťa absolvoval štúdium pod vedením profesorky Hanny Shalgi. Ako 15-ročný vystupoval so Symfonickým orchestrom z Haify a s Izraelským komorným orchestrom. Po víťazstvách vo viacerých medzinárodných klavírnych súťažiach (Maria Canals v Barcelone, Viotti Valsesia v Taliansku a Schubertovej klavírnej súťaži v Dortmunde) sa Amir Katz presťahoval do Európy, kde pokračoval v štúdiu u Sulamity Aronovskej, Michaela Schäfera, Leona Fleishera, Karla Ulricha Schnabela a Murraya Perahiu.
Ostatné roky strávil Amir Katz vystupovaním v popredných koncertných domoch, ako sú Tonhalle v Zürichu, Lincoln Center v New Yorku, Berlínska filharmónia, Rudolfínum v Prahe alebo Théâtre du Châtelet v Paríži. Spolupracuje s významnými symfonickými a komornými telesami po celom svete, popri iných s Orquestra Sinfònica de Barcelona, Israel Camerata Orchestra, Jerusalem Symphony Orchestra, Chamber Symphony of Princeton, Orchestre National de Lille, Dortmunder Philharmoniker, Deutsche Kammerphilharmonie Bremen, Pražským komorným orchestrom, Israel Philharmonic Orchestra a Münchener Philharmoniker.
Amir Katz nahral viacero CD albumov pre vydavateľstvá Live Classics Label, Oehms Classics a Sony Classical. Jeho dvojalbum Piesní bez slov (Lieder ohne Worte) Felixa Mendelssohna Bartholdyho realizovaný v Live Records nemecký hudobný magazín Crescendo vyhodnotil v roku 2009 ako Najlepšiu nahrávku sezóny. Na jeseň 2011 absolvoval Amir Katz veľké koncertné turné po Nemecku a Rakúsku, kde predstavil skladby zo svojho najnovšieho albumu Frédéric Chopin: 4 Ballades/4 Impromptus (Oehms Classics).
Napísali o koncerte:
Bratislava: Pavol Breslik odhalil svoji komorní tvář
Bolo to kedysi na jeseň roku 1997, keď sa v koncertnom uvedení Donizettiho Cateriny Cornaro v podaní dávno nejestvujúcej Komornej opery objavil v postavičke Rytiera neznámy blondiak z Kysúc. "Iskierka nádeje preskočila vo výstupe úplne mladého Pavla Bršlíka…", napísal som vtedy v recenzii do Hudobného života. Vôbec netušiac, že v 18-ročnom študentovi je zakuklený neskorší tenorový protagonista najvýznamnejších svetových operných scén a festivalov. Viac tu.
Koncert Pavla Bršlíka v Bratislave
Sú tenoristi, ktorí si myslia, že na city publika sa dá zaútočiť len spievaním Nessun dorma alebo Di quella pirra. Tí rozumnejší, ktorí dokážu odolať tlaku manažérov či vlastnej ješitnosti, vedia, že to tak nie je. Medzi nich patrí aj Slovák Pavol Bršlík, ktorý sa ako v poradí druhý predstavil v Redute v rámci cyklu Veľké slovenské hlasy organizovanom agentúrou Kapos (v spolupráci s agentúrou House of Music) 5. júna. Viac tu.
VEĽKÉ SLOVENSKÉ HLASY PAVOL BRŠLÍK Klavírny sprievod: Amir Katz 5. 6. 2012 Malá sála Slovenskej filharmónie, Bratislava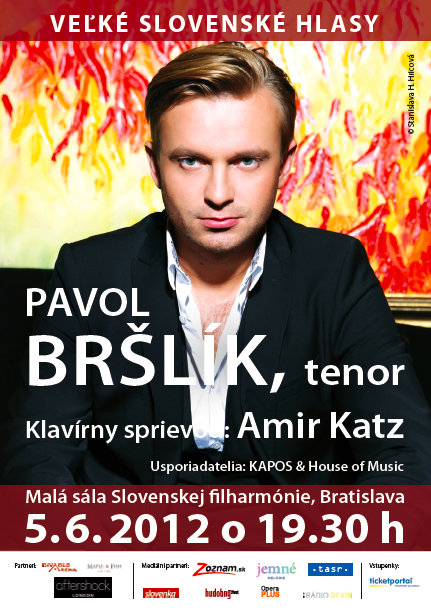 Program
Alessandro Stradella
(1639–1682) Pietà, Signore!
Wofgang Amadeus Mozart
(1756–1791) Un'aura amorosa - ária Ferranda z opery Cosi fan tutte
Vincenzo Bellini
(1801–1835) Dolente immagine Výber z cyklu Sei ariette da camera Malinconia, ninfa gentile Vanne, o rosa fortunata Bella Nice, che d'amore Ma rendi pur contento Vaga luna che inargenti
Édouard Lalo
(1823–1892) Vainement, ma bien-aimée - ária Mylia z opery Le Roi d'Ys prestávka
Franz Liszt
(1811–1886) Tre sonetti del Petrarca, S. 270 – toto je originálny názov Pace non trovo Benedetto sia ´l giorno I vidi in terra
Gaetano Donizetti
(1797–1848) Angelo casto e bel - ária Marcella z opery Le duc d´Albe
Giuseppe Verdi
(1813–1901) De´ miei bollenti spiriti - ária Alfreda z opery La Traviata
Francesco Cilèa
(1866–1950) É la solita storia del pastore - lamento Federica z opery L´arlesiana
VEĽKÉ SLOVENSKÉ HLASY: PAVOL BRŠLÍK - 5. 6. 2012
VEĽKÉ SLOVENSKÉ HLASY: PAVOL BRŠLÍK - 5. 6. 2012 - po koncerte